Apex the Man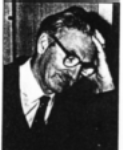 Apex is the pseudonym of Eric Chalkley, a professional carpenter from Croydon, who was born on Boxing Day in 1917 at Stevenage in Hertfordshire. He was educated at Letchmore Green Road Boy's School and left in 1931 to start his career as a carpenter. In 1966 he happened to read, by chance, Ximenes on the Art of the Crossword and discovered the puzzles of Ximenes in the Observer and decided to ape X. His first puzzle was published in The Listener, June 1969. His first entry in the monthly Ximenes competition was in No 920 and he won first prize in No 1,097 with his clue to PANTOPHAGIST (What pig has to become when gripped by hunger ?) He was married with two children; the eldest, Jennifer is married to photographer Chris Rutter, and Geoffrey, an architect, who lives in Haddonfield, New Jersey USA, with his wife Sharon and their son Matthew.
His annual competitions - A Puzzle Every Xmas - have given great pleasure to a select band of friends and solvers every Christmas. On 27 June 1981 at a dinner organised by this group, Mary Macnutt, the widow of Ximenes, presented him with Ximenes' handwritten book of prize-winning clues. In the fly leaf she inscribed this message, Apex, I would love you to have this. Though shabby without, there are treasures within.
Apex has published puzzles in The Listener, Games and Puzzles, The Guardian and currently in The Times. In 1978 his work was published in The Hamlyn Book of Crosswords 1 a popular compendium which brought together four of the world's top crossword puzzlers, APEX, DUCK, JUDE and SMOKEY. This was followed by 4 other Hamlyn Books. He also appeared in The Azed Book of Crosswords by Jonathan Crowther 1975 and The (Almost) Impossible Crossword Book by Gyles Brandreth 1984.
Eric Chalkley was awarded the MBE in the Queen's New Year's Honour list 2002, probably the only crossword compiler to receive such recognition. In later years he suffered from ill health and passed away on 26 April 2006.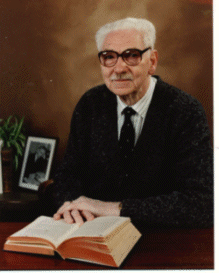 Photograph by Chris Rutter, Croydon, England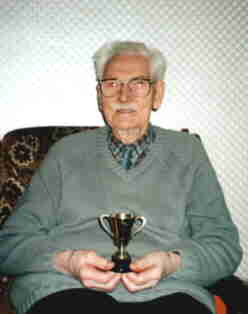 Apex holding the Ximenes No. 1 cup Feb 2001