Untitled I by Morgan
Solvers should find an interrupted dedication in the finished grid and send it in with their solutions. One proper noun doesn't appear in Chambers or Collins; punctuation and capitalisation may mislead.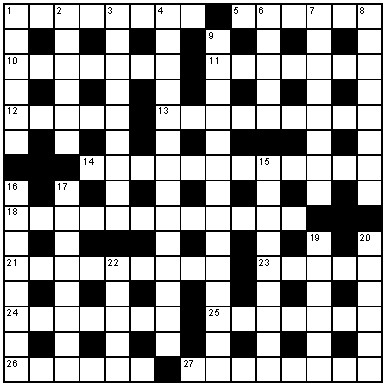 Across clues
1. Leader converted Gulf state from East to West (8)
5. Bird on the rocks quilted bedcover at home (6)
10. Frith possibly etched design (7)
11. At heart, most unsexy carousers like haunches, maybe (7)
12. Middle American missing college put down name as a competitor (5)
13. Destroying current letter in East-ender's possession? (9)
14. Policeman's father thoroughly covers half of London club with scorn (12)
18. Florid berberis masks lower-class trailer (3,9)
21. US wheels turn over the Library of Congress (9)
23. Dance which leaves drab Muriel taken aback (5)
24. CIA list encoded letters (7)
25. Diminutive girl, Iris, one of the little women (7)
26. Clamour about shorthand degree became quiet (6)
27. Part of lobster looks mean (8)
Down clues
1. Not many awaited the arrival of antique stool (6)
2. I-and-I leave giro with increase in value (6)
3. Rambling trip not on: see East instead (9)
4. Former Democrat opposed to shuffled redeal in hand (4-10)
6. Bears primitive arrest (5)
7. Small ships take harm from lunatic aloft? On the contrary! (8)
8. Aromatic sprays scent elderly gallants (8)
9. Will's caress involves affair with everyone simultaneously (14)
15. Skis rife with beginning of rot could become these (4,5)
16. Salty British motorists kiss short and hard (8)
17. Towards one side by some distance in inches (8)
19. A Missouri president lifted the lowest of animals (6)
20 Aromatic root tea ingested by Asian (6)
22. Stir up real issues regularly (5)
To enter the competition please send your solution to me at derek@crosswordcentre.fsnet.co.uk before 1st December 2004. The first correct entry drawn from the hat will receive a copy of the Oxford 20th Century Words.