Unlucky 13 II by Tilsit
Clues are normal, but must be entered with one letter missing, wherever it occurs in the answer. Solvers will be able to resolve any apparent discrepancies.
Taken in order, the latent letters spell out six words which when considered with the six unclued answers point to 12 members of a group of 13. Solvers are requested to write the ten letter word that would "complete the group", as it were, beneath the grid. As an additional clue the letters in the shaded squares may be rearranged to form a helpful word. Unchecked and mutually checking unclued answers spell JL DRAWN TWIT !
Chambers (2003) is the primary source of reference. An internet search may confirm the link if all else fails.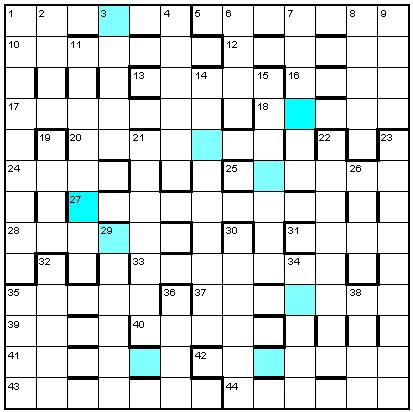 ACROSS
1 Start sailing eastwards to Greek island harbour (7)
10 Inventor rehashed writ (8)
12 Laugh at Western oaf sending back note (7)
16 Old secret with which elder statesman entertains royalty (5)
17 Poets write endlessly about European folk-song (8)
18 Spreader redrafted novel without service (6)
20 Doctor began to isolate irregular coronary expansion (8)
24 Can a creature be found to contain shellfish? (5)
25 Extraneous reporting doesn't start off (7)
27 Grandmothers were in union and died ignorant (10)
31 Kind of endless energy exercised (5)
33 Feature of procrastinators; slang for women in one's society (8)
37 Crackling displays imagination when mine's gone! (8)
39 Chart music originally found in Ghana (5)
40 Express satisfaction in cutting grab rail? (6)
41 Car manufacturer had precise directions to compound. (7)
42 Notes roll off the tongue of Roman singer's output? (9)
43 Where one recuperates badly without going ape? (4-4)
44 Horse-trader who flogs old nag in drag (7)

DOWN
1 Nurses need adapting for starting operation (10)
2 Yours truly trails film animal (5)
3 Her taurine abduction on view to all in surprising opera (6)
4 Does her diet make this lady sound a wildcat? (7)
6 Axed - just what the groom did? (5)
8 Commune a tenant may partly tidy up (6)
9 Cheap pot turns up on new asylum-seeker? (7)
11 See auricles treated mistakenly for bladder (9)
15 Gaelic chatterbox sighted round centre of Alloa clutching letter. (8)
19 Guru from the South is holding half of Indian funding (5)
21 Stroll spent after sizeable round (4-4)
22 Pliable building material, crumbling softener with a bit of earth (9)
23 Ruby covered for me? (10)
26 Shrub; hybrid of wild rose and root of ginseng (5)
29 Davy Jones' locker? (3-5)
30 Wrap up! Before noon Spain faces poor weather (9)
32 Trainee slimmer protecting recipe (7)
34 Keeping wine in bag (6)
35 Does he rework ironware, but not on a shift? (5)
36 Reckless driver, say, one in luxury car (5)
38 Did it play last of tune in French town? (6)
To enter this competition, send your entry to me in list format naming all thirteen of the members to me at derek@crosswordcentre.fsnet.co.uk before the 1st January. The first correct solution picked from the hat will receive a prize of a copy of The Chambers Book of Araucaria Crosswords, which has donated by the publishers.