Unlucky 13 by Manumission
The perimeter contains 8 names from a list of 12 that is unique. Each clue contains a superfluous word. Taken in order their initial letters spell the remaining four names, together with the title of a famous number one record and the group that performed it.
A thirteenth name whom it could be said rather appropriately failed to make the list is hidden in the grid. Solvers are asked to highlight this and send the solution and a clue to this name to Derek at derek@crosswordcentre.fsnet.co.uk The writer of the best clue will receive a copy of Ximenes on the Art of the Crossword, which has been donated by the publishers or an alternative crossword book if preferred.
Solvers may need the use of the Internet or a particular type of reference book to identify the names. The Guinness Book of Hit Singles will verify the song and group.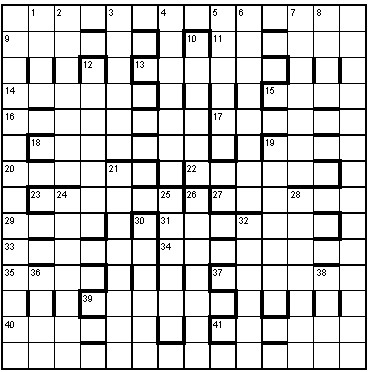 ACROSS
9 Hard-working ingrown computer virus? (6)
11 Russian Bullfighter may be mad to leave rejected moderator (6)
13 Yard following one associated with East, since when apprehensive (6)
14 How muses do without show, performing invariably where they took place (6)
15 Film director remade Gore novella (4)
16 Leather blouse may be tractable without starting loom (8)
17 Immigrant maybe has right to enjoy flowers (6)
18 French region may be brash in architectural design (3-4)
19 Numbskull that generated dung! (4)
20 Celtic forward turned out for Rangers in classic strip (6)
22 Autre-nom de Voltaire? Autre-nom oublié moins n et m? Peut-être! (6)
23 Ragged rascal normally placed in scale? (6)
27 Jock put his foot down, as did a number in rocking beat (6)
29 Perfidy always looks partly a scene of happy innocence (4)
31 Allergic reaction is not right for desiccated products akin to gall-nuts (7)
33 African leader held search for local Yoruba tree (6)
34 His apprentice was obviously noted (8)
35 Sounds like the usual Listener mythological character? (4)
37 Fusspot needs craze about soldier (6)
39 A zebra trampled African grass stockade (6)
40 Blue Waterford glassware is back containing whiskey, maybe? (6)
41 Holding two axes, achieved twice with casual back (6)
DOWN
1 Lets one dispose of a bodily part (4)
2 It's gotta be somehow a khaki carry-all (4,3)
3 Importantly depress the Stock Exchange with strike (6)
4 Nautical mishap lost a navigator? The Madman! (7)
5 Lack of order once gassed Australians board cab (6)
6 Orcadian stonecrop climbed support (4-4)
7 Film: 'The Cruel Sea' - Niven nurses painful back? (7)
8 Russia replaces Hungary in the accurate territorial adjustment (4)
10 Buddhist history has recollections of the harem (6)
12 Watery reception creates sulk with the start of Anne Robinson and Eamonn Andrews? (7)
19 Swollen testicle initially needs immediate medication (7)
21 Extend Spanish article on camera obscura (8)
24 Lewd islander lets out cry? Pain, obviously! (7)
25 Relaxed, refreshed resident not in need (6)
26 Look shifty with purloined heads of beautiful Botswana and Ugandan antelope (7)
28 Ordinary flight surcharge I have for this? (3,4)
30 Humorous archivist has left library in a mess (6)
32 Tick order for a wagon I had invoiced (6)
36 Shakespearean puzzle spoilt cruciverbal game (4)
38 At first, architectural structure excavated after ruin on ridge (4)