Survivor by Dysart
In nine clues a pair of adjacent letters must be removed from a word before solving (removals leave words or common abbreviations). Correct selections of one letter from each pair in clue order will give the title of a work whose author appears in the grid. This title must be substituted for some previously entered letters that are thematically appropriate. Two afflictions of the work's central character must be highlighted (3, 4).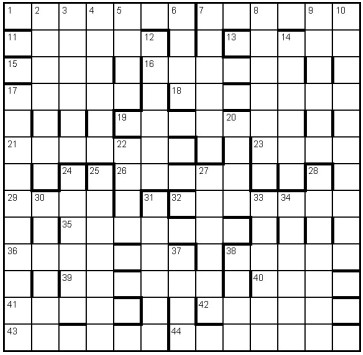 Across
1 Mark entertains a bit in nightclub (7)
7 Metal club found in a station yard's missing (6)
11 God abandons us in this Latin verse (6)
13 Sides of wagon close to wheels are very damaged (5)
15 It's a bore when engineer disregards 9 (4)
16 Deal with hussy at the start and cut support (6)
17 Shame Earl's adopted a conventional attitude (5)
18 I want day off after match performance (7)
19 Peep show's opening to the right of lantern; put penny in - first sight of erotica (7)
21 Clear El Salvador out? Cartographer might do so when map's too big (7)
23 Provider of milk and water welcomed by one who spurns alcohol (4)
26 Poet's passion beginning to end (5)
29 Sound unit gives power to drama from the east (4)
32 Charles de Gaulle? Broadcast's too much for him in retrospect (7)
35 Form master initially mocked so to speak? (7)
36 Last two from coach turned to the front to undergo fresh instruction (7)
38 Heart of province becoming Catholic, a continuing source of trouble (5)
39 Writer's article on American cardinal (6)
40 Best to forgo the starter - such food will give you little energy (4)
41 Music having elements of jazz and rock that Ella's backing (5)
42 Menagerie finally gets in Australian expert on monkeys (6)
43 Knocking back drink before short trial gives a boost to the spirits (6)
44 Oriental bird going after food - it's gone (7)
Down
2 Shelters, for instance, I saw engulfed in rising water (7)
3 Has sex with accommodating engineers and is up the duff (6)
4 A prince leaves harbour in charge of vessel (6)
5 Cereal's in almost plentiful supply in the end (4)
6 Silk trade for William's over (4)
7 Japanese comic sent up English - another 16 across? (6)
8 Estonian perhaps is seized with a weapon (7)
9 A bit of entertainment after working? Not kosher (6)
10 Superannuated person agreeing when posted to cover American author that's kicked heroin (10)
12 Chinese girl, topless? Yes - hot stuff! (6)
14 Refinement of salesperson, carrying case of Essence for cook (6)
17 Hard king appears to change in versed biblical passage (10)
20 Three queens perhaps, losing royal item (4)
22 State jamming Aida's 'O Patria Mia' say (4)
24 Bits of sharp tin penetrate char near the ribs (6)
25 Give responsibility to nurse and drive out of hospital (7)
27 Greeting engineer to introduce one going with expedition (6)
28 Magistrate of his age taken in by professional rook! (7)
30 Rainy in the outskirts of Hinckley and elsewhere (6)
31 Hit hard and sue steelworkers? (6)
33 Small round boss has to count up pens first (6)
34 Chemical action regularly eats into metal (6)
37 One never cages a rare bird (4)
38 Wild creature bears a soprano out (4)
To enter this competition send your solution in list order, plus the title of the work and the 2 highlighted words, to me at derekharrison@yahoo.com before the 8th November 2008. The first correct entry picked will receive a copy of the new Chambers Book of Listener Crosswords, which has been donated by the publishers.