The Great Jigsaw Experiment by Arsinoë - Solution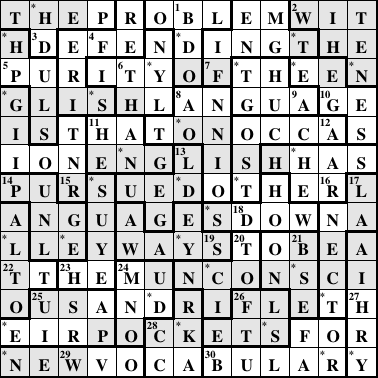 In explanations, asterisks (*) indicate anagrams, ellipses (...) indicate selections from clue text, quotation marks (" ") indicate homophones, and lowercase letters indicate deletions.
1 BLOOD: BROOD with L for R (switching hands)
2 WHITEN: WH(IT)EN
3 DEPTH: ...HT PED..., hidden rev.
4 FERRIES: FE(RIvER*)S, initial letters, &lit.
5 PLUSH: PLUS, if spoken by someone stereotypically intoxicated
6 THINLY: L...H I...N T...Y*
7 FIGMENT: FI(G-MEN)T
8 ANTONIO: cryptic definition
9 AUGHT: cAUGHT
10 GEESE: ElSE+E.G., rev.
11 HAGEN: ...H AGEN...
12 ACCOST: A(C)COST, ASCOT*
13 LUGED: L(U+G)ED, one initial letter, three final letters, &lit.
14 PLUNGE: P+LUNG+E
15 RIOTING: R(IOTa)ING
16 REHASH: HAS HER*
17 LANCET: CLEAN ...T*, &lit.
18 DHOWS: "DOWSE"
19 SEAWAY: "WEE SEI", Spoonerism
20 TONIC: NOTICe*
21 BONES: double definition involving B-ONES (bombers)
22 TOTAL: T+ALTO*
23 HUEYS: triple definition (ref. Donald Duck's nephew, Huey Lewis, and the UH-1 Iroquois helicopter, known as the Huey)
24 MOUND: SOUND with M for S
25 UPRAISE: U(PRAI)SE, PAIR*
26 FELTS: initial letters, &lit.
27 HAIRY: "HARRY"
28 CRACK: septuple definition
29 WOVEN: NE+VOW, rev. (NE = 45 degrees on a compass)
30 BALFOUR: BALl FOUR (ref. the base on balls in baseball)
This quotation first appeared in a 1990 Usenet article by James D. Nicoll.