Screen Test II by Tilsit
Clues are normal, but need to be entered into the grid with a misprinted letter always occurring at an intersection with another answer. Taken in sequence, the misprinted letters reveal the names of two actresses who starred in different versions of the same film. Eight answers are clued by definition-only clues (in no particular order), and need to be treated before entry to the grid, where they should be fitted jigsaw-fashion.
The title of this film shows how the eight answers are to be treated before entry and should be written in the space provided. Finally, solvers must make an amendment to one of the rows of the completed grid in line with the theme. Chambers Dictionary (2003) is the primary reference, although solvers may need internet aid to identify the film..
DEFINITION-ONLY CLUES
Pit boss, housemistress, join wood with oblique fixings, counties, Passover snack, slenderness, transport system, dance.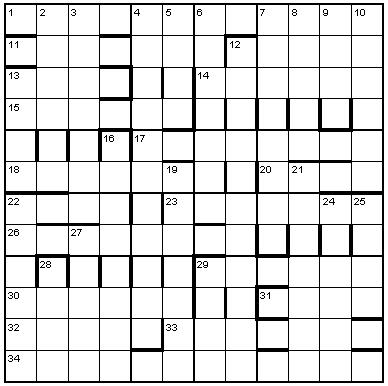 ACROSS

1 Having divisions within a chest, the end is so very large, a bit of treasure's within. (12)
11 Was he diametrically opposed to Caesar J? (7)
12 Pens would be swans perhaps if nothing replaced their down. (5)
14 One halfway to being in command of ammonia compounds (6)
15 Bathed in edge of Euphrates with plenty of greenery. (6)
17 Informed consent once held by Irish Leader. (8)
18 Love extraordinary doilies (7)
20 Crack man? (4)
26 Having broken toe I limp coarsely. (8)
29 Defile the upright amongst the elite. (6)
32 It would be dirt-cheap perhaps if pact wasn't in situ and agreed. (5)
33 What's smelly and may take one deviant? (7)
34 Enable try-ons hampered by a peck on this? (12 two words)


Comments on the puzzle are welcomed: tilsit@btinternnet.com

DOWN

2 Yet phone company didn't feature in what's owed. (6)
3 No masts hampered small Greek vessel. (7)
4 Between friends batting side partly recovered. (11)
6 He's leaving out merit to horsing around. (7)
7 Sponsored hat initially found in German industry, mass marketing executives created and produced. (8 two words)
8 Genus of birds turned seaward, but not south west. (5)
10 Capers around the slope. (6)
12 Mess therein when broken? (11)
13 Fellow officer's weapon. (4)
16 Ring up interrupting where a round may start for receiver. (8)
19 A section, part of the sleep I so deserved. (7)
21 Alas incomplete coda ruined how Zoroaster may ascend to Heaven. (7)
22 Shiny material bottom half of jerkin found on top of basket. (6)
24 I want nothing cooked to serve. (6 two words)
25 Detest only the content of what's sworn. (4)
27 Hives perhaps used by wasps or aphids. (5)
29 Organisation broadly identified alternately. (4)
To enter this competition send your solution, in list format, and the title of the film, to me at derek@crosswordcentre.fsnet.co.uk before the 1st October. The first correct entry picked will win a copy of Chambers Concise Crossword Dictionary which has been donated by the publishers.