Roger Squires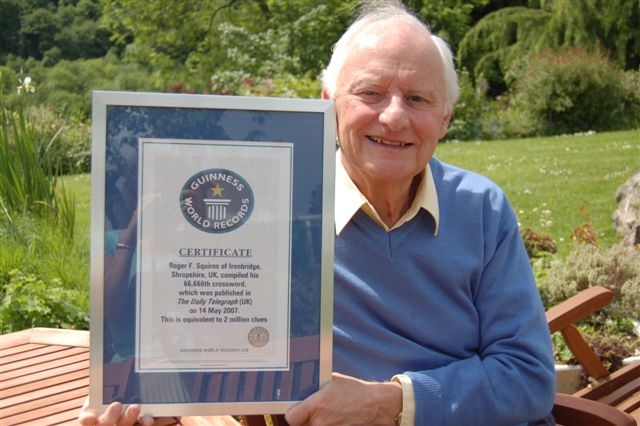 Roger Squires is in the 2008 edition of The Guinness Book of Records as the most prolific crossword setter.
Roger left the Royal Navy in 1963 after 15 years service, firstly as a Seaman, from Boy to Petty Officer, then ten years flying as a Fleet Air Arm Lieutenant.
His first published crossword appeared in the Radio Times in 1963.
By 1977 he was earning his living from crosswords with acting and magic on TV, with puzzles being published in the Birmingham Post, local Wolverhampton newspapers and several Syndicates. At this time his marriage foundered and he gave up "show business" to work at home and look after his two pre-teenage sons. He set out to increase his crossword work and the head of Central Press Features suggested he claim the record as the "most prolific compiler".
His outlets were verified to Guinness Records and Norris McWhirter accepted the record in 1978 of "34 published crosswords weekly". Subsequent years averaged just under 40 per week.
In 1979 came the "Longest Word Used in a Published Crossword" - the Welsh place name: Llanfairpwllgwyngyllgogerychwyrndrobwllllantysiliogogogoch, clued as an anagram.
In 1982, "The Longest Published Crossword" - 8 feet long (actually a third of the cryptic puzzle compiled as the publishers, Onsworld Ltd, were unable to print the whole puzzle).
Then Guinness Records, reckoning an average 30 clues per crossword, accepted he had passed his millionth clue in the Telegraph in September 1989.
In 1992 they added his short history of the crossword for 3 editions.
In 1996 came "One of Only Three Compilers to have Regular Puzzles in All Five Broadsheets".
Finally, Roger passed his 66,666th published crossword and his second millionth clue in the Telegraph on May 14th 2007.
His crosswords have appeared in 565 outlets, including 105 publications in 32 countries outside the U.K. He has also produced a 3D crossword that fits on a Rubik's Cube for an Internet competition.
Roger on the Telegraph Fiasco.
In May 1997 Val Gilbert, the Telegraph crossword editor, informed setters that she was undertaking an experiment in July and no crosswords would be required for that period. July's puzzles turned out to be an odd mixture of styles and we all recognised some of our old clues.
Michael Mepham had worked with Val in the past, providing a computer program that immediately converted the compilers' clues and grids into the published form. We understood he had a database of Telegraph and Mail clues for the previous 14 years.
In November Val wrote to us telling us to expect "seismic changes" with the clincher coming on February 5th 1998 when we were informed that technology had caught up with us and no crosswords were required after March 30th.
However, she would pay £2 per clue, exclusive for the DT, were it good enough to be included in her database of over 42,000 clues.

Some setters accepted their fate, but Ruth Crisp and I joined forces to fight this decision. We felt the more people that knew about it the better. I managed to spread the news of this action in the media thanks to help from Brian Greer and Mike Laws in The Times - Mike also mentioned it on the radio - Francis Wheen at Private Eye (3 times), known crossword fans, The Guardian Diary (4), The Crossword Club, my local Shropshire Star etc.
Eventually Val felt she had to respond to this and she combined with Tom Uttley to write a "news" article on March 20th 1998 defending her position.
Reaction from readers was not good.
On the morning of April 1st I received a call from the deputy editor of the Telegraph, one Boris Johnston, asking for my views of the situation, which I gave somewhat forcibly. I suggested he then ring Ruth who also vigorously gave her opinions.
Leter that day, Boris rang again "to eat humble pie" and inform us that we would all be reinstated. An article by him, reiterating this, appeared on April 2nd 1998.
Following this we were invited to our first lunch at Canary Wharf and we received an immediate rise in the crossword fee.
All's well that ends well!