Plate Spinning by Plinth
The unclued entry in 28 Across is thematically relevant. The grid is split into nine 4x4 squares. Each 4x4 square is referred to by the letter adjacent to it outside the grid; the reference of the central 4x4 square is 'E'. The wordplay of all across clues indicates the answer plus one extra letter that is not entered in the grid. The extra letters form a series of nineteen grid references. Once the grid is completed, 4x4 square 'F' should be temporarily removed from the grid. After the removal of 4x4 square 'F', in clue order, each 4x4 square referenced by the extra letters should be moved into the space vacated by the last move. Once all moves have been made, 4x4 square 'F' should be moved back into the vacant space. Several clue answers clash when entered in the grid. A dot should be placed in the centre of clashing cells. There are 30 dots in total. Before moving the 4x4 squares, the dots should be numbered 1 to 30, going left to right, top to bottom. After completing the movement of the 4x4 squares, the dots must be joined to form five distinct shapes in this order:
15, 16, 6, 14, 22, 24, 21, 13, 12, 8, 4, 15
7, 11, 17, 19, 10, 7
23, 18, 20, 27, 29, 26, 23
1, 2, 3, 5, 28, 25, 1
30, 9
The identities of the five shapes can be discerned from the final grid. When arranged, unchecked letters can spell out, 'A crust was torn AKA a gash - sad?'
Chambers (2003) is the primary reference.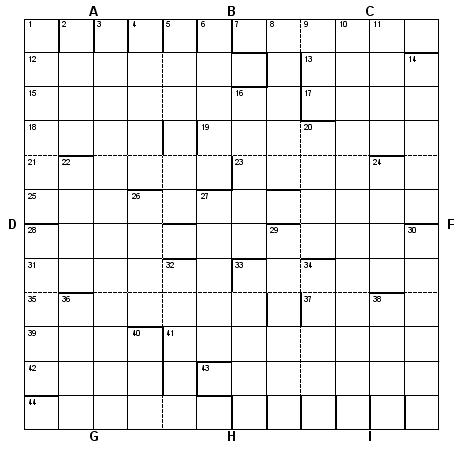 Across
7. River bottom where kipper may be found? (6)
12. Nasty slur surrounds fund that's recycled amounts of water, perhaps (7)
13. Take in island's golf club (4)
15. Preventing hammer crushing damaged rivet (8)
17. Fine international in sullen state (4)
18. European match in which United makes case for a stitch up? (4)
19. Slippery plaice can lose an ace potential predator? (7)
21. Possibly, latter day palaeontologist (6)
23. Prompt soldiers to follow American insight (6)
25. They contest card game with pals, playing a very long time (12)
28. See preamble
31. Some hungry bats gnaw stones in Scotland (6)
33. Millions concealed in Gordon Brown's compost heap? (6)
35. Put it in clothing worn no longer (7)
37. Makes out mountain passes (4)
39. Persuade me to eat eggs (4)
41. Brought together depression and delight before God (8)
42. Test marks dismissed retrospectively (4)
43. Most biting parrots talk initially, getting poetic even (7)
44. Where Moses made good his escape in reeds by river (6, two words)
Down
1. A blouse, scruffy, but not old, can be taken to the cleaners? (6)
2. Regular duo reveal mongoose (4)
3. Vitamin B, E and A injected into empty vein - free of charge due to him? (12, two words)
4. Evil demon frightened a prior (5)
5. A half of vermouth (Italian vermouth) makes punch better than the competition? (6)
6. Oldie's made a mistake, parking in narrow opening (5)
8. Man is active before food (5)
9. Deserted - I am not hopeful (3)
10. This shows length can be obtained from the motorcar's wheels going around (12)
11. A bloke? Not quite - she's all woman! (4)
14. Catches thieves (5)
16. Navy and Army's top soldiers go up East European river (5)
20. Do in the Italian Beckham, perhaps (4)
22. Start of address to boat? (4)
24. Bird rescued from Sheerness? (4)
26. Actors returned for a month (4)
27. Not upset after Father Christmas frolics here? (5)
28. Courageous king got in trouble once (5)
29. Dangling monkey with agile tail from Egypt (6)
30. Great Victoria, perhaps, rested fitfully (6)
32. Old coin in numismatic album (5)
33. Honey applied to fruit (5)
34. Spiritual knowledge from Japan, North America's duplicated (5)
36. Rent it with an option to purchase at end (4)
38. Letter written in Old English inflected case (4)
40. Measures German town (3)
To enter the competition send the completed grid prior to movement of the 4x4 squares in list format, the final grid pattern and a description of the five final shapes to derek@crosswordcentre.fsnet.co.uk before the 1st March 2006. The first correct entry picked will receive a copy of Chambers Crossword Lists which has been donated by the publishers.