Party Politics by Chalicea

In some clues, the definition and wordplay do not lead to the same solution. There is an extra word in each clue. The initial letters of these words, in clue order, spell out what is needed to resolve the problem.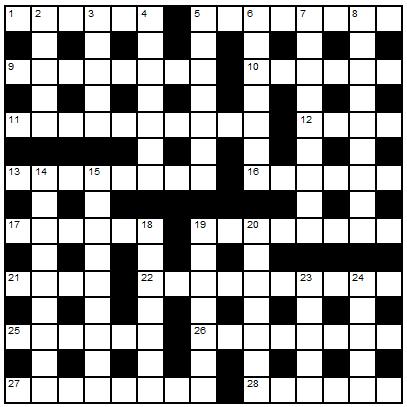 Across
1 Circle and two curved lines in a vehicle or vehicles arranged in a ring (6)
5 Distressed unendowed college was heavily in debt (8)
9 Dukes taking in gold, aquamarine and a bit of vermilion for artists (8)
10 Bladder held by sac is not even turned over (6)
11 Deceptive interpretation given after endless failure to hit the mark (10)
12 Serpent-lizard's excreted putrefaction is removed (4)
13 Estimates the oral ability of a fool with letters (8)
16 Flesh wound is observed surrounding end of nail (6)
17 Makes horizontal move in the opposite direction but not due east (6)
19 Becomes overcrowded - permission to depart before street's impassable (8)
21 Recovery time after sickness for Scottish fattened cow (4)
22 Cool client unusually emotional in treatment of a defect (10)
25 Surprisingly, it is criticism of devotees of sport (6)
26 Physician coming back endlessly tested in large scale, widespread outbreak (8)
27 Old Irish legend returning twice in bourgeois novels (3,5)
28 Leader of outgoing government is idle and eats on the move (6)
Down
2 Nocturnal animal is certainly tapir essentially (5)
3 Fifty idlers always merrymaking (5)
4 Camp-followers of an Ethiopian prince with about fifty servants initially nominated (7)
5 Fish used as food that is start of supply for distressed disreputable women (7)
6 Destroys earth surrounded by encroaching molten material and sulphur (7)
7 Obstinately and persistently thinking of objection I've formulated following old tax (9)
8 Varied ingredients I expect in a substance mixed with a medicine to give it consistency (9)
14 Learn to scatter seed on meadow - need for back and forth motion (9)
15 Fashioned coteline's inadequate for rigid structures (9)
18 Plundering white wine in gallon tuns (7)
19 Library desks ignominiously dismantled in cellars (7)
20 Requiring a change of heart in sternutation outbreak (7)
23 Letter of thanks after newspaper article (5)
24 Judge of symphonic work in E (5)

To enter this competition send your solution, either as a diagram or a list of the answers, to me at derekharrison@yahoo.com before the 8th February 2010. The winner, picked from the hat will receive a copy of Chambers publication which has been donated by the publishers.
For more information about Chambers publications go to the Chambers website