Organic Matter by Flowerman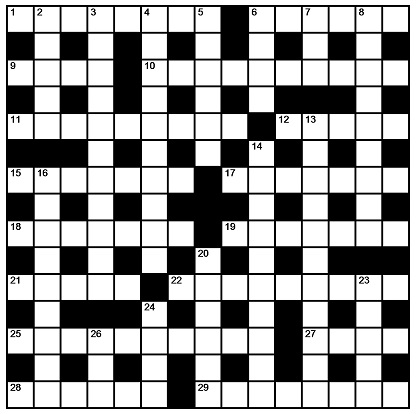 Eight clues lack a definition. Their solutions, which have something in common, need to be replaced with a different word according to a rule before entry into the grid. For these clues, lengths of both solution and replacement word are indicated.
Across
1 Attack almost contained by extra backing (5;8)
6 Worker told to run (7;6)
9 Having no money, author finally hit bottle (4)
10 Criticise relay races (8;10)
11 British draftees unfortunately not given formula? (9)
12 Currency going west after hoax (6;5)
15 Trim uniform (5;7)
17 Opening chapter (7;7)
18 Arab country's backed to hang on to island (7)
19 Herbivore once ate mostly leaves (4;7)
21 Dreadfully cruel complaint (5)
22 Missiles get bigger warheads, finally (9)
25 Theory wanting for final stretch ahead (6;10)
27 Protons, say, in very great number, free of charge! (4)
28 Saint about to accept sanction is shot (6)
29 No good in sounding off about current split (8)

Down
2 Howler monkey ignoring troop's leader (5)
3 Let blood ooze out from additional vessel over a short time (11)
4 Perhaps restore home, with reformed pirate wearing cost (10)
5 Dashed candle got stuck! (6)
6 Suffer with cold for final smoke (4)
7 Location for bathing box not right (3)
8 Mock weakness when leader drops out (9)
13 Removal of awful exit helping to protect public initially (11)
14 Somewhat involved with rights for animals (10)
16 Bright male in exile oddly not disheartened (9)
20 Lack of independence in university clubs laid bare (6)
23 Speech baffling overseas nurses (5)
24 5's content with treatment for skin condition (4)
26 Overly short warning sound (3)


To enter this competition, send your entry as an image or in list format, to ccpuzzles@talktalk.net before the 8th September 2015.The first correct entry drawn from the hat will receive a book which has been donated by The Crossword Centre.