My Pa Oil by Rebus
6 clues are "Printer's Devilry". I.e. where the answer has been removed from a plausible (but not necessarily meaningful) sentence and the gap closed, taking liberties with punctuation and spacing but not changing the order of the remaining letters.
Eg: Royal Academy will only display the bet (4) Answer: STAR
Should read: Royal Academy will only display the best art.
These 6 answers have to be placed thematically in the grid. 8 other clues contain a thematically relevant superfluous word which will assist in deducing the puzzles correct title. The 2 unclued answers identify the protagonists.
Solvers should submit the correct title (6 words) and the 8 superfluous words with their solution.
Chambers is the primary source of reference apart from proper nouns. There are 2 abbreviations.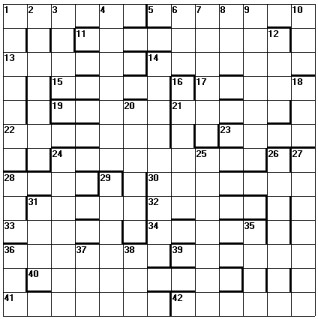 Across
1. Poverty stricken children caught crab, less the mall, says priest. (4)
5. A shady device to restrict a prince in cut back (7)
11. Contemptuously, French backchat dull goatsucker (9)
13. Stumps - change ends for quality of sound not pitch (6)
14. Very loud monk that's put in area of influence (7)
15. Spanish Masters held here. It's a long drop shot (5)
17. Capetown rascal has thankless job to cut tree (5)
19. Dedicated employee says pass the host rag I can't hem (6)
21. Last station no minus for commuters (5)
22. Agent first to ask for advice (7)
24. I'm bossy! Is unlikely odd couple are living happily together (9)
28. Approve of setter being featured in article (4)
30. Ingredient of dry Muscadet puree over blown (7)
31. Father of Dover diets just in time (3)
32. Make an arduous journey around Europe to find a bird (5)
33. Frequent sound of laughter at one time (5)
36. Boxer's trailing baby antipodean antelope (7)
39. Group of flowers challenges other runners apparently? (6)
40. Turkey stuffing could be a burden to 38 leaderless soldiers (9)
41. His Excellency ordered ice to be removed with hydrochloric acid. These chemicals are inseparable! (7)
42. Cuckoo nested on the bottom... (6)
Down
1....half dollar includes excessive tip (7)
2. 10 lunch orders for wet fish (dried and burnt) (7)
3. Fix theatrical tent (4)
4. Hesitations surround deserter's mistake (7)
6. Friend of the family (3)
7. Endless stories represented Swiss dish (6)
8. Once upon a time an elf's child began annoying ugly fairies (3)
9. Parisian boulevard where dentists practise taking temperature (2-5)
10. Scottish smoker is a stubborn animal with no energy to rise (3)
12. Hopefully, every lion's fed - be meat available (5)
14. Fetch shifter to move small parts (9)
16. Australia certainly sounds to be by the sea (6)
18. Unaccounted for soldiers: 6 gone astray (3)
20. Nudges into railway arches (6)
24. Portuguese place university in disgusting stable (7)
25. Farmer possibly manures willy-nilly (7)
26. Go in the direction of where Douglas is boss (7)
27. Its left over literally mn (7)
28. Sharpen timber when hard (3)
29. Part of rigging is nothing to sailor going astern (6)
31. Selection of Fringe's autumn season in Edinburgh (4)
35. To proceed, Edmund watched start to finish (4)
36. Neat bachelor, quite the opposite, protects the family jewels (3)
37. Erratic surfer was not at beach occasion (5)
38. This fish is no odd riddle (3)
To enter the competition send your solution , in list format, including the correct title (6 words) and the 8 superfluous words to me at derek@crosswordcentre.fsnet.co.uk before the 1st February 2007. The first correct entry picked will win a copy of Chambers Book of Araucaria Crosswords v.2 which has been donated by the publishers.