The Listener Crossword "No. 5"
THE LISTENER, APRIL 30, 1930
This Week's Crossword
A Cricket Crossword
As cricket experts will have little difficulty in solving this Crossword no prize is offered, but readers who send in correct solutions before May 7 will be entitled to an afternoon tour of the B.B.C. studios. Solutions should be addressed to The Editor, THE LISTENER, Savoy Hill, W.C.2, and bear the word 'Crossword' in the top left-hand corner of the envelope. The correct solution and list of solvers will be published in THE LISTENER for May 14, and application should then be made by those whose entries were correct, stating which day they would like to visit the studio.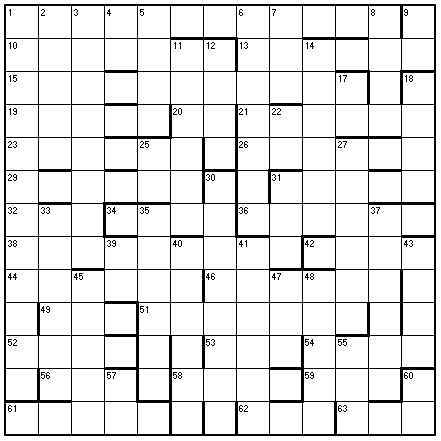 CLUES
ACROSS
1. Played for Winchester, Oxford, and Surrey, and is still one of the most important figures in cricket.
10. One of the present Australian team.
13. A great cricketing school.
15. Initials and surname of one of two brothers from 13 across, both great stylists.
19. A cricketer who has shown himself to be a great captain.
20. First two initials of the last man in many an eleven.
21. A cricketer from 13 across who in 1908 sent a bail 70 1/4 yards.
23. The Christian name of a famous Middlesex bowler who took all ten of Somerset's wickets in 1900.
26. A South African cricketer who bowled with great success in the first Test Match at Lord's last year.
29. The surname of two brothers who played for Middlesex.
31. A bowler who took six wickets for two runs for Warwickshire in 1914.
32. The name of three amateurs who played for Hampshire.
34. An erratic fast bowler, but without the final E.
36. The last two letters cut off: a poet's name and title, a hard-hitter, and at one time a captain of England.
38. Initials and name of a South African googly bowler.
42. Plays for Glamorgan.
44. Perhaps the nicest batsman to watch, especially against fast bowling.
46. Three long-lived Kent cricketers bore this name.
49. First three initials of a fast bowler who, when playing for Cambridge, took all ten wickets in an innings.
51. Half the Christian name and two-thirds of the surname of one of the greatest bowlers of all time.
52. Two Sussex brothers --- great all-rounders.
53. The record of this is 175 yards on Christ Church Ground at Oxford.
54. The whole name of several cricketers, but half the name of an already great South African.
56. The first syllable of the name of a great all-rounder who achieved the double event seven years running.
58. The greatest praise is to call the plural of this 'safest'.
59. A Notts. cricketer who died in 1905.
61. Three Kent brothers.
62. The splice knows what this is, especially in post-War cricket.
63. Three-quarters of the name of a great batsman affectionately known as Bobbie ---.
DOWN
1. A title which disguises a very stylish amateur batsman.
2. In the finest cricket all ...
3. Some cricketer must have borne this surname.
4. First and last letters of a great cricketing school.
5. Insert a V: a process that generally concerns the stumps.
6. A member of the Australian team (less one letter).
7. Poetry but not cricket.
8. Anagram of a bowler who has played for England since the War.
9. Batsmen prefer to be this.
11. Anagram of another cricketer from 13 across.
12. Hefty.
14. His high score was 343 not out.
17. First two initials of the N.Z. captain.
18. Anagram of name of a famous bowler who in Manchester in 1894 took 7 wickets for no runs.
22. No cricketer likes to attain this.
25. First two initials of a Cambridge and Sussex batsman.
27. A Lancashire amateur.
30. Initial and name of a batsman who has just made a very high score in the West Indies.
31. Cricketers in the East have no doubt worn this.
33. A Duke who played for Kent over a hundred years ago.
35. The last letter curtailed: the name of a well-known umpire.
37. He plays cricket as well as baseball.
39. First two initials of 6 down.
40. Wisden shows 18 cricketers bearing this name; one plays for Kent.
41. A googly bowler; a possible choice for the Tests.
43. An Oxford Blue who has played for Middlesex.
45. A cricketer who represented Clifton, Cambridge, and Gloucestershire.
47. Change the first letter and it becomes vital to cricket.
48. A bowler who once hit a ball over the Pavilion at Lord's.
55. The first three-fifths of the name of a candidate for the captaincy of England.
57. Same as 25 down.
60. This was the greatest Foster of them all.