'Letters Latent' by Ximenes
Someone somewhere claims (as Ximenes couldn't dare to when this series started) to know of -.... -'. Each of the two blanks represents 4 words (18 letters); the dots represent 4 other words in the middle of the quotation which axe disregarded here as irrelevant. The 36 relevant letters in turn should really occur (in some cases more than once) in the 36 answers to be entered in the diagram, the first in 1 ac., the second in 6 ac., and so on successively in the right order up to the last letter, which should occur in 30 dn. But these letters must all be omitted, wherever they should occur, when the answers are entered. Definitions in the clues refer to the full, unmutilated, words; subsidiary indications, e.g. anagrams, references to parts, etc., refer to the mutilated forms to be entered in the diagram. Numbers in brackets show the full lengths of unmutilated words.
17 is a compound word in Webster, not in Chambers; 20 is the Greek form, given in C. as a derivation, of a Latinised word; one answer is a prefix.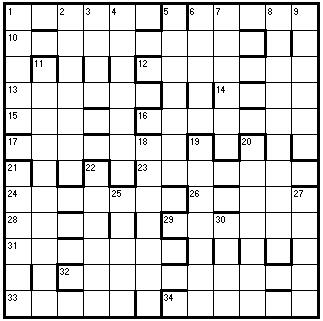 Across
1.Rough-tongued red revolutionary about in Feb. (8)
6. Expand old railway - augment, perhaps, as before (7)
10. Sid got wild, gripping club, stubborn as before (13)
12 Greek money down - a quid short: the unit system (8)
13. Groans, tetchy, losing heart, inclined to grumble (7)
14. Returning east likewise was sweet (5)
15. Pop singer -wrong transactions curtailed (7)
16. Snakes like consuming a satisfying finish (9)
17. Ties can, when broken, make a law void (8)
23. They cause variations: choosed - that's wrong (9)
24. Ornamental vessel, incorrectly centred (8)
26. Premier returning in state, water-logged (6)
28. Squabbles shortly following in certain conditions (5)
29. Concentrated, with a distinct aroma, we hear (7)
31. Beauty queens? They always get left (8)
32. It helps the crystal-gazer to see heroics, love, gold in a cache returned (12)
33. Eskimo conjurer in strange occultism (8)
34. Bird gets half dose of the cat with severity (7)
DOWN
1. Clasps in grief- 0, 0, 0, 0, 0. . . . (6)
2. A bribe - dollars,apparently (9)
3. Officer gets commendation, derived from calculus? (6)
4. Relay high spot - hare all over the place (9)
5. Salt - it's multiplied by one pinch of Jock's (8)
6. I'm hippy: off with constable's headpiece (7)
7. Ruddy Scots dove up a tree - or Scots cuckoo (7)
8. (2 words) We're in slapstick - dress up, act madly (11)
9. 'The man overcomes trouble any guidance (8)
11. Filmy green plant - fibres rent all to pieces (11)
18. Heere's the best of luck, little birds (8)
19. Unmechanized cultivator with prominent ridge (8)
20. With no S.A. wild youth, uppish, harbours mites (8)
21. Powerful car - girl unwell inside (8)
22. Something orthorhombic, even including a monkey (9)
25. This introduces something hairy, waving a torch (6)
27 Big city wise, one hears, about rising purpose (6)
30. Sharp rebuff- certainly not, little sir (5)