THE LISTENER 12 OCTOBER 1978 Crossword 2,476
Last seen disappearing...
from the last bus to Woodstock? by Apex
A 'who-did-it' dedicated to Colin Dexter, Detective Chief Inspector Morse, Sergeant Lewis, Constable Dixon and the Thames Valley Police.
Across clues are normal, but down clues provide a clue (33 letters in 7 words) to the unmutilated form of 2 down, The first and last 11 letters of this due should really occur (in some eases more than once) m the answers to the down clues, the first in 10. the second in 2, (Upper deck) and so on, in the order in which they are presented up to the last letter which should occur in 21, (Lower deck). These letters must be omitted wherever they should occur, when answers are entered. Definitions in these clues refer to the full, unmutilated words (lengths indicated by numbers in brackets) subsidiary indications refer to the mutilated forms to be entered in the diagram. The 11 intermediate letters of the hidden clue appear in the central horizontal line of the diagram. Chambers Twentieth Century Dictionary, 1972 edition, is recommended.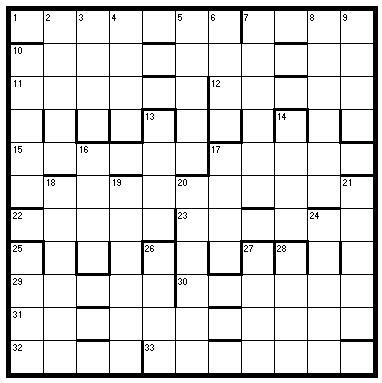 Across
1. Butter, two pounds, that's a help (7)
7. Gold cases - the sort found in schools (4)
10. Arm entangled with string in on old weapon (11)
11. Filthy water that's running in a broken gun (6)
12. Defeated body - the last to give way (5)
15. Form of insect between castings in lead (6)
17. A leaf used in making Irish stew (5)
22. Girl's old-fashioned magic crystal (5)
23. Ring left in floor space marked with lines (6)
29. Chain and compass (5)
30. A loose woman who gossiped (6)
31. Sporting gun with red ammunition tube (11)
32. Top member of body one found in study (4)
33. Puke and endless crimson stuff (7)

Upper Deck
10. Irregular seam around head of Iron club (6)
2. (7)
3. A hymn given by the choir gentlemen (5).
4. Very old railway paint-brush (5)
13. A crude saddle basket the wrong way up (5)
5. Division of target - a fallen one (6)
6. A feather taken from the greenfinch (5)
7. Sweet cordial provided among a miscellany (7)
14. A plain mop with end of rubber broken (6)
8. Scottish charm, whip and rake (7)
9. Layer of eggs under a suit (5)
Lower Deck
25. Unrefined coagulated milk (5)
18. Old Mayday label a neighbour has used (7)
16. ReddIsh-brown solution around end of revolver (5)
19. Oxygen producing woody tissue (7)
24. German mistake overlooked by judge (5)
20. Beastly old litter (7)
17. Top of silver crown on English coin (5)
27. Nose rings found under tin (5)
28. Well-known Scottish name on upturned channel (6)
24. Resting fugitive (6)
21. English lady badly skinned (6)