Printer's Devilry by Jove
Each clue is a passage from which the printer has removed a hidden answer, closing the gap and sometimes taking liberties with the punctuation, but not disturbing the order of the remaining letters. For example: Appliance repairman working late on Friday? Still, the work gets done. Answer. GEST. Undevilled version: Appliance repairman working late on fridge stays till the work gets done. Every passage, when complete makes sense.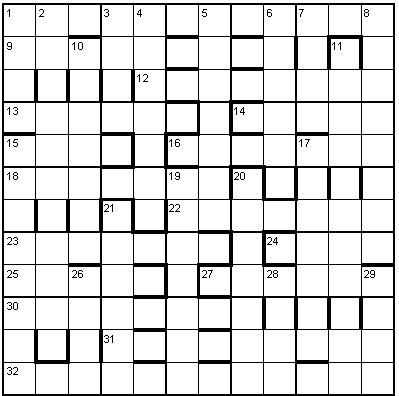 ACROSS
1 Scottish tourist office pie's legend (12)
9 Tainted satyr asks famished creature (9)
12 Juliet loved, so preferred mort (8)
13 Spike or spin placebo? Let uses grow! (6)
14 Eurovision scores are falling behind; not surprising given the lag (5)
15 Eastern blond's communist viewpoint (4)
16 Seaweed lovers find notable addition to pastry menu (7)
18 With heir lacking, male of estate is needed (7)
22 Sri's fastening latch with a piece of string (7)
23 Hospital dorm test to find source of disease (7)
24 Frazzled ma missing child (4)
25 Romani mate, a spiritless lover (5)
27 Protect us from sad elderly victims (6)
30 See gusty Hindu disciple criticizing his irritability (8)
31 Sad insect - it gets squashed even more (9)
32 Plaintive heckler - what or who is trying to give a speech? (12)

DOWN
1 Beat head repeatedly when playing darts (4)
2 Brilliant, that sitcom - edit a bout in hilarious odd-job man sketch (11)
3 Lost in the desert, see green pasturage in the distance (4)
4 Dial into the Pousse café (7)
5 'Switching the bee' - a documentary on Channel 2 (7)
6 In luxury, lier-down is plushly positioned on cabin bed (6)
7 DTI won't budge from tradition (4)
8 Conservationist's wages when replanting marshland (8)
10 Give a glass - he saved the day (7)
11 Driving through deer country at night keep bees out of the way (11)
15 Seek attestation of mystification of cabalistic claim (8)
17 Constrained by demanding spry gardener must shape hedges carefully (7)
19 A ton? That weight's way off for a baby boy! (7)
20 An alliance eternal, apian (7)
21 Given a petal, a dye - merged with two types of pot (6)
26 Guide startles tour at the duomo (4)
28 Baileys - the creational liqueur of Ireland (4)
29 Can tiled structures project outwards? (4)
To enter this competition send your solution, in list format, to me at derek@crosswordcentre.fsnet.co.uk before the 1st June. The first correct entry picked will win a copy of Chambers Concise Crossword Dictionary which has been donated by the publishers.