Farrago by Apex
Clues are of six types :- 1. Printer's devilry (PD) 2. Sire and Dam (S&D) 3. Right and Left (R&L) 4. Misprints (M) 5. Definition and Letter Mixture (DLM) 6. Spot the Theme (ST)
Hints or rather obscure definitions are given to all ST words which are connected by a theme which has to be discovered. Sire and Dam clues give the parentage of an appropriately named horse. Example:- RAINSTORM out of DARK LADY (4) Answer RANI. Chamber's Dictionary is recommended.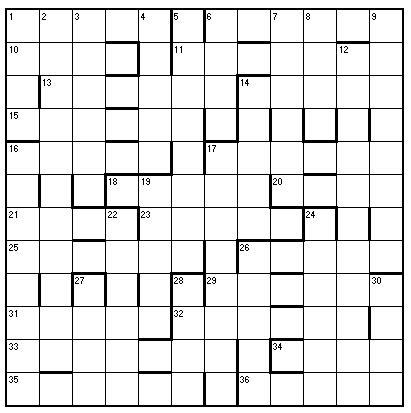 Across
1
ST
Potteries (5)
6
ST
Jambs (6)
10
M
Wild of talk about love (4)
11
M
Bird's boy once behaves naughtily in dance (7)
13
DLM
A shoe-maker's awl turned out of Indian steel (6)
14
S&D
By KNOCK OFF out of ABOUT TO RELAX (5)
15
17
R&L
One who uses feet to push gee in race to one side is placed about 5th in handicap (6,6)
16
ST
Knock-about-man (5)
18
PD
Held skin wears, once protected an old scalp (5)
20
DLM
Sailing boat on a Portsmouth river (4)
21
DLM
Outer garment knitted for a baby (4)
23
ST
Captain-general (5)
25
ST
Wimbledon-number-one? (6)
26
S&D
By SOUND AS A BELL out of SOUNDING A FAVOURITE (5)
29
M
Cry of boy and another a little horrific (6)
31
PD
Wanting to be a maiden....my aunt Fanny (5)
32
ST
Flags (6)
33
S&D
By RIP VAN WINKLE out of SIESTA QUEEN (7)
34
DLM
Spear reckoned to be of Indian origin (4)
35
PD
Ministers who whip lies aren't popular with back-benchers (6)
36
ST
Wood (5)
Down
1
ST
Clog (4)
2
DLM
Set in front of viewers in a battle royal (11)
3
DLM
Please don't hug me so roughly love! (6)
4
PD
A travelling cat, a stray on British Railways (5)
5&17
ST
S.E.7. Relations (2 words 8,8)
6
PD
Mordern No. I. ally is awful to live with (4)
7
PD
Colin Cowdrey, Santa in the M.C.C. party, all agree (6)
8
M
Getting permission to use the cane (4)
9
S&D
By WASTE THE LOT out of PRODIGAL (8)
12
DLM
At the wicket Close is so atrocious....needs a break to right lack of form (11)
14
S&D
By NEWS ANNOUNCER out of STENTOR (5)
16
M
Having no tail, has not so much below to scratch (8)
19
PD
The wisest purchasable equipment for a camping holiday (5)
22
24
R&L
Stone walling, without it a dictator follows like a naughty boy in fear (6,6)
26
M
What good beaters use, one could make it of dried mud (5)
27
S&D
By ALMOST CLOSED out of ONE TO GO (4)
28
M
Fail first of exams and very nearly cry (4)
30
ST
Hound (4)
In 1966, a Ximenes crossword entitled 'FARRAGO' appeared with these six types of clues. In April 1968 Apex sent this 'FARRAGO' puzzle to Ximenes to solve. Unfortunately, he had omitted the word 'so' from 12 down - Ximenes replied:-
Dear E.C.
Most enjoyable, esp. as I've never been given the chance to solve one like it before. Just about the right difficulty - a slow start and then a rush for a time when I spotted the _______ ______ theme, then a slower finish - about 2 hours in all. Some very good clues and very few complaints - the wrong letter in the anag. is a thing that can happen to anyone; I've done it more than once. One has to check them, I find, terribly carefully. This one gave me no real trouble. "Astray" isn't a very good emendation; perhaps "a stodger" might do, if he had got bogged down by the bowling! I've indicated my order of solving. I've done it quicker than I expected - took it with me when I went away. Very many thanks.
X
PS I've now come to the conclusion that "Sire & Dam" isn't really a very good idea, and I shan't use it again. The trouble with it is that it's useless until one has got a few letters towards it; after that, if clues are really fair (as yours all were) it tends to be too easy. But it was my invention & I take all the blame!