Printer's Devilry by Anagnorisis
In each clue the solution has been removed from a sentence whose meaning is irrelevant, and the remaining letters joined up, punctuation etc. often being altered. In most cases, a synonym is also given.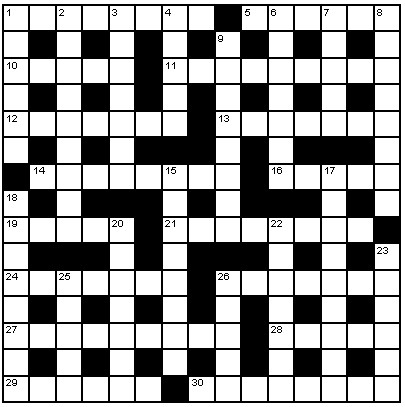 Across
1 Fine crockery: some was dry (8)
5 For short-sighted to see bow would be beyond the pale (6)
10 Pet to take a stride on a roller-coaster (5)
11 So high up the hill (9)
12 After finding my chair and having my fill (7)
13 Grass and leaves on dais if summer in the garden (7)
14 Authorisation after dinner, always from right to left (8)
16 Listening, top radio station made one furious (5)
19 Fed more fuel? Find a peaceful girl (5)
21 Tories watch: will I ambitiously be backed? (8)
24 Ginger at tea-time - what a spread! (7)
26 Hardy crowd might see Theo bite a kangaroo (7)
27 Missed calling to Ted - ambition to amuse (9)
28 What count is needed to sustain heat of battle? (5)
29 Thin felt over another mineral (6)
30 Tinker who goes to Scarborough? Tin then sent to Jersey (4,4)
Down
1 Late transport, not his, one very sad day? (6)
2 Mother leaves during the day and by turns to disaster (9)
3 Cries for low-calorie cakes, delicious Alice's maybe (7)
4 See top company address when product fails (5)
6 Cinema shows Oedipus sending for coracle (7)
7 Over-indulging at the off-licence (can section), this man is warned (5)
8 After me, kebabs for the main course, capital fellow (8)
9 Although opposed, the Pict went into the statute book, centuries ago (8)
15 Magazine's big type inclines - may be projection (8)
17 At the circus, is that a lion? Tee up with Tiger, amongst others (9)
18 A modest consolation, sing even when legs have gone (8)
20 Survives ops (7)
22 To get Des I do add henna (3,4)
23 Bypass Nelson's Column as it's neither bye-catching (6)
25 More deceptive three card tricks to convert show-off? (5)
26 Divine food from Rome (5)
To enter the competition, solvers should send a solution in list format to derek@crosswordcentre.fsnet.co.uk before the 1st March 2004. There will be a prize of a copy of Chambers Anagrams for first correct solution picked from the hat.