Crucis by Ploy
Each clue contains an extra word. In clue order, their second letters form a saying and its origin (except for one clue, when the whole word is to be used). Clashes in the grid must be resolved to reveal three names (one reversible). These names are to be highlighted.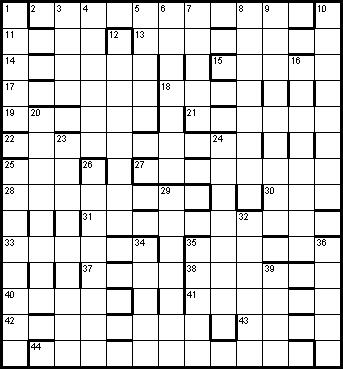 ACROSS
2 Where a knavish knight sits this month, clutching loaded dice (11)
11 Yours truly's acting for nothing portraying Hamlet, say (4)
13 Publisher in profit absurdly following a body of people (8)
14 Coastal state wanting Rhode Island left without regionalisation (6)
15 Small restaurant deserted - in emergency add room (5)
17 Tyrant's shield is reddish-brown, not quite red (6)
18 Behave lethargically, somewhat lacking energy (4)
19 Having made excuses and left will save time in property (6)
21 Singular river swan, a splendid feathery creature (3,3)
22 Remarkable mobile phone playing pieces by A.L. Webber (10)
25 This economy bread is well soft (3)
27 Front of Eurostar stays enclosed in tunnel, ground rising up (8)
28 Establish tradename with URL exposure back in initial test (5,3)
30 Drug's no answer for hero athlete (3)
31 Loving quality check-ins, send Ernest to change terminals (10)
33 Henry went at the right time - he would (6)
35 Source of drugs ostracised, pushing real high after Ecstasy? (6)
37 Witness around ten sprats thrown back - they're not what they used to be (4)
38 Badderlock most readily shelters a group of shellfish (6)
40 Open country experienced on the enchanted air (5)
41 Well-known singer reflected on pleasure trip (6)
42 Half of greens in on-line mag espouse backing act with force (8)
43 Easily Globe Theatre's central Shakespearean feature (4)
44 Wading birds, slowing down after good dinner at seaweed section (11)
DOWN
1 Ingénu spelling Azrael oddly - have mercy! (5)
3 One's squeezed by numbers in temple square (4)
4 Charge follows what sounds like outrageous offence in school class (6)
5 Bizarrely twisted to one side, bird's head goes beyond its tail (5)
6 Assemble means of begetting, employing force, true hurt? (7)
7 Piece of writing lifted depression disheartening under-secretary (5)
8 Atomic sites working under extreme pressure - harbingers of atrocious catastrophes (8)
9 A high standard of nimbleness tossing penne in delicate vinaigrette (9)
10 Foolishly driven on shore, convertible dents rad. (8)
12 "A Minute Chip" - interesting talk about the integrated circuit (8)
16 In trouble, river runs cold, I shriek "Save me", exhausted (8)
20 Smugglers want grapeshot scattered, sparing ship's stern (8)
23 Unruly poet riles reader in Congregational church (9)
24 Mezzanine rent tumbling, sole inhabitant having moved base (8)
25 Playing poor set versus Steffi - break point, possibly? (8)
26 Mystery man heard shifting bishop's throne (8)
29 Secondary school has one writing application paper pursuing a college (7)
32 Recent affair can be seen as logically preceding this cynical gossip (6)
34 Afrit was revolutionary, someone excelling, stimulating (5)
35 Theorem essential to period one taught? (5)
36 Thinner socks are for rambler's stroll (5)
39 Roar of surf recorded in analogue audio (4)
To enter this competition please send your solution in list format, plus the three highlighted words to derek@crosswordcentre.fsnet.co.uk before the 1st May 2004. The first correct solution to be picked will receive a prize of the Penguin Crossword Dictionary.