I'm A Celebrity? Get Me Out of Here! by Tilsit
Six celebrities have been stranded on an island, represented by the grid. Only one has escaped with the remaining five lying low.
Definitions in each clue are normal, but the answer is to be entered into the grid with a misprinted letter, which is never unchecked, always occurring at an intersection. Subsidiary indications relate to the misprinted entry. The correct letters, taken in order, across then down, will spell out some words helpful in identifying the celebrities, five of whom can be found in the grid.
Solvers are asked to identify the successful escapee, write a clue to his or her name and send it to derek@crosswordcentre.fsnet.co.uk before June 30th. The winner will receive a copy of Pretty Girl in Crimson Rose by Sandy Balfour.
Feedback on this puzzle would be very much appreciated; please mail davetilley@tiscali.co.uk.
All answers are contained in Chambers Dictionary (1998), with the exception of some proper nouns and common foreign words.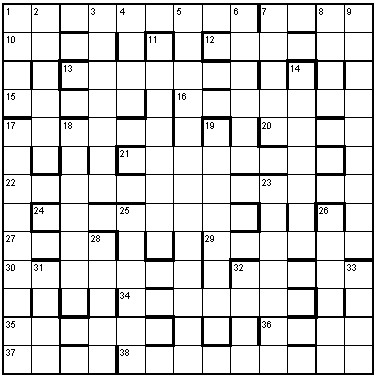 ACROSS
1 Stand with this condition, perhaps? De-asphyxiation results! (9)
7 From Kentucky, a helpful nurse. (4)
10 Against a start to play? (4)
12 Fury at extremely evil commanders, two officious leaders (6)
13 Take the top off marigold, uprooting case (7)
15 Flashback? It's all very fine and powdery (5)
16 Precocious publicity about Scottish isle (7)
17 About acid, and where it's kept sometimes (6)
20 Tree that produces arsenic, one found in large space (4)
21 Playing an organ, one who comes from Eastern Europe (8)
22 Approve evenly a clearance of site where Vikings departed (13, two words)
24 "Animal" originally a cocktail of ouzo, ice and a dash of gin (8)
27 Give up Browning interpretation (4)
29 Biblical character index follows chapter (6)
30 Hummingbird has herbicidal poisoning, one he leaves. (7)
32 Expect a small portion (5)
34 I'm caught in a trap with this hoofer (7)
35 Soccer team toured state in NE China (6)
36 French banker has nothing from financial plan (4)
37 Formerly part of petstore (4)
38 Financial investments represented by deposit in Potteries town, say (4-5)

DOWN
1 Has old trilby with felt tip (4)
2 In Greece, each day is spoilt without Penny (6)
3 No first class upside-down sponge feeds cattle (7, two words)
4 Statue of maiden's from unknown precious metal (4)
5 Unionising tag ill-becomes one who helps scabs and promotes blockages (13)
6 One into anger management at sea (6)
7 Country house of ill-repute has painter (5)
8 Bludgeon fish, tail first (4)
9 Held out, or treated stye? (9)
11 Appropriate somehow to lose veg, say, and communicate between planes (3-2-3)
14 S Indian armchair has lost cushion cover and collapsed (7)
17 Moneyed mercy dispersed - could be an example of this verse? (9 two words)
18 How pointedly literally means weakly? (7)
19 Rival act conflicts like old Vaudevillean? (8)
23 Old woman follows conservationists' uprising. Plant-life's ruined by it! (4,3)
25 Asian game features trap carrying veto (6)
26 East India psoriasis treatment turns out to be a rip-off! (6)
28 Desiccated directly travelling to Middle-Eastern resort (5)
31 Warm, near-fatality (4)
32 A Tory leader's opera (4)
33 Small vehicle turns up for much larger one (4)