Believe it or Not by Rebus
Each clue (except for one across and one down) contains a superfluous letter in the subsidiary indication. These letters, when taken in clue order, spell out a quotation and its author. 10 answers require alteration prior to entry. In order to achieve this, solvers will need to contradict his assertion.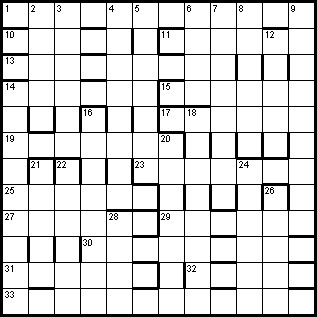 Across
1. Mainly true, all correct on one side.
10. Still I'm biographer in prison.
11. My cruel reform school!
13. Paul upset with crude barmen of shady joint.
14. Press handle councillor gaining weight.
15. Anchorage may be found here, each one without question.
17. Mocked change of heart for oriental tournament.
19. Useless (nasty) flavour includes 3 parts of wine.
23. Newspaper heading possibly fitting in issue.
25. Alternately, firm up, bend edge and block.
27. Find Yogi up to no good. The cuckoo won't do it!
29. I washed with a full range of colours.
30. Didn't partake in chorus but backed verse.
31. Reject school that admits odds and sods to write music.
32. Possibly skirt most of healing process.
33. Urchins threaten to go out before one fires a shot.
Down
2. It's nearly obsolete in open play (2 words)
3. One member left out of conservatives inspires.
4. Handy device worked out cheap on first date. (2 words)
5. Forgetful man upset since reorganisation.
6. Salvation Army allowance contained about 10 bob.
7. Tailless skunk has fear of Maori grub.
8. Reduce size of class for the audition.
9. Desperately wanted to refuse to accept price rise.
12. It is considered strange in Manchester to take first holiday at taxpayers expense and not include Japan.
14. Answering phone, daughter rings up.
16. Look towards Capital City.
18. Heavenly priest, many were converted.
20. Educated girl in mansion gets charity!
21. Fellow only sends 2/3 of radiogram.
22. Well-informed poet produces news item hot off the press.
24. It opens up part of the body.
26. Buck up the French with ancient tale.
28. The old go and get chained up before being taken away.
To enter this competition please send your solution in list format to derek@crosswordcentre.fsnet.co.uk before the 1st June 2004. The first correct solution to be picked will receive a prize of the Chancellor Press Crossword Dictionary.