Ballad by Bandmaster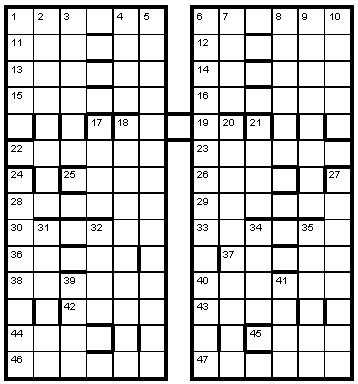 Each clue is really two clues, not overlapping, separated by an extra word. The answers may be clued in either order. Asterisks denote clues where one answer is of two words. The initial letters of the extra words spell out, in clue order, the name of a relevant author and a suggestion of where solvers should look for orientation. This should help solvers complete the unclued names at 5 down (two words) and 6 down (two words plus a middle initial), and complete unambiguously the missing letter between the two main sections of the diagram.
ACROSS
1,6 Women raise a gasp, recognising one in black as a smart young woman (6,6)
11,12* Queen's lawyer, in intent a spoiler, urgently butting in over reverse for asylum-seeker? (6,6)
13,14 Insect spray is some deadly acetic liquid I dispose of after end of usage (6,6)
15,16 Bell that's colourful yet put out of harmony in stunt, unedifyingly (6,6)
18,19 King's metal? Alchemy's not part of modern engineering (2,2)
22,23 Dog - mine's lost track retrieving bird in patch of ground round river (6,6)
25,26 Hunt member backs month-long demonstration to mark shame about end of fox-hunting (4,4)
28,29 I measure complex map before kayaking extremity of creek in headgear and waterproofs (6,6)
30,33 Stuffy Cornish town finally changes inhabitant numbers after fully backing open spaces (6,6)
36,37 Newspaper items could become public knowledge, backing enquiry led by judge (5,5)
38,40 Where Salisbury was unusually fair about Labour, many leaders of English liberals adjusted poorly (6,6)
42,43 Capital fellow - not half! - interviewing English university. That's different (4,4)
44,45 A fellow's glass needs filling for life's nearly the lowest of the low (4,4)
46,47 Cleaner tends to scurry round yard gathering hose promptly before start of shower (6,6)
DOWN
1,10 Leader always has yuppie flu, developing damage with reduced care (5,5)
2,9 Cloth one picked up in market, indubitably a hand-me-down - one kept by lady weaver (8,8)
3,8 Country one notices first bean type able to give spirit to space endlessly lousy for cultivation (6,6)
4,7 Hero's charm when missing out on medal generates cheesy ending for author (4,4)
5,6 [Unclued, see preamble] (14, 14)
17,21 Boat manoeuvring up a river observes bend's quiet position (4,4)
18,20* Workers' output's transported jolly early (new scheme held up centres working in dark) (10,10)
24,27 Actors joining a group gripped by Carmen? Angry author says ties must be broken (8,8)
31,35 Centrally controlled one-nil upset Liverpool fans? If so, it must be reviewed (6,6)
32,34 Author's notes and stories, primarily lowbrow, briefly have trendy characteristic (4,4)
39,41 Distress as work's broadcast - Yamaha (traditionally made sound as a bell) sounds faulty (4,4)
To enter the competition send your solution (including the missing letter), in list format, to me at derek@crosswordcentre.fsnet.co.uk before the 1st September. The first correct entry picked will win a copy of Chambers Concise Crossword Dictionary which has been donated by the publishers.