The Aim Of The Game by Seth Mould
With one thematically numbered exception, across clues contain an extra word. Progressively positioned letters from these yield items requiring collective treatment to derive 10dn (equivalent to 14dn). The last item and what follows it, treated thematically together, give the number of squares that symbolize the treatment. Solvers must submit the name of this symbol (5).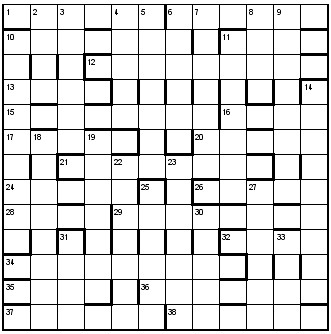 ACROSS
1 Scottish shoulder of Aberdeen Angus Paul delivered (6)
6 Frank eats steak Canadian without fullness (6)
10 Too much amateur sport's playing around with drug awareness (7, two words)
11 Find fault with pedal on concept car (4)
12 Prepared ale and soup as entrées, without greens? (9)
13 Fine man, John (4)
15 Is Fort Carson possibly in a horse-mad state? (8)
16 Enlarged fuel cells from Kansas City (4)
17 Gabby: originally Terry (a Leeds kicker) Yorath's cherub (5)
20 South American on good terms with prison staff (5)
21 Formalist's therapies working, taking time (8)
24 Gold Tincture - horse backed by Ascot member? (5)
26 Margaret misses AGM, unfortunately, and troubleshooter's verdict (5)
28 Loud-roaring bearish animal returning in sheep's clothing? (4)
29 Pioneers mixed terpene carefully (8)
32 Animal-dropping… corgi be off! (4)
34 Weird pogo effect's no good; remove liquid container? (9, two words)
35 Fifty-one allied gunners, ready for Mussolini (4)
36 Meat's out in religion on Saturday (except for example Judaism) (7)
37 Bank deploying sly old campaigners (6)
38 Slim anorexic starts to notice a rapid return of weight (6)
DOWN
2 Well, Europe's essentially in disarray (4)
3 A side of Sri Lankans upset about wide spinning (6)
4 Girl with no means of roping a stag? (5)
5 A medical student's piece of furniture (7)
6 Bacterial invasion involved pies in South Shields principally (6)
7 Cocaine has Bob smiling, at first. It's relieving tension, internally. The body
may depend on it (7)
8 Drug cops take Chinatown's leader out in temple (4)
9 Trim short run catering supplies (8)
11 Charlie's not as productive as one who does… (7)
18 …a bit of Etruscan floor work round Italy; it's uplifting (8)
19 Senussi leader caught in bank (Halifax) (7)
22 Spice: one I sow (7)
23 A number of particular members I provided with confused excitement (7)
25 Weigh female donkey? (6)
27 What comes before me - court or cleric? (6)
30 Itch in ear's more painful (5)
31 Barnet Fair's reorganized (1st of October, not 4th of April) (4)
33 A work I procured for a fee (4)

To enter this competition send your solution in list format, including 10d and 14d plus the name of the symbol, to derekharrison@yahoo.com before the 8th October 2008. The first correct solution drawn will receive a copy of Chambers Foyle's Philavery which has been donated by the publishers.