SIDE BY SIDE BY APEX
Stephen Sondheim 'The Lyric Poet of Broadway …and Crossword Composer?
Apex explains
and presents a thematic puzzle composed in honour.
IN August 1967 I sent Ximenes a 'Playfair' crossword and after solving it he sent the paper on which he had worked out the key-word as he thought the scribblings might amuse and interest me, which of course, they did, and even more so when I found that they were on the back of one of the entries he had received for the previous month's competition No. 962 bearing a clue to PALING, which he had highly commended, from Mr. Stephen Sondheim of New York - such was my introduction to the Ximenean who is now being rightly hailed as 'The Lyric Poet of Broadway'
Some nine months later X's 1 000th puzzle appeared and a Dinner was held at the Cafe Royal in London to celebrate it and, although I didn't have the luck to bump into him, Mr. Sondheim was there. The 1000th puzzle was a 'Letters Latent' - whether it was the very first of this type, I don't know, but it was the first I had ever seen - the 36 letters which had to be omitted when the answers were entered in the diagram gave, in the correct order, a Shakespearean quotation suitable for the occasion - A THOUSAND RAW TRICKS... WHICH I WILL PRACTISE. The excellence of the puzzle took my breath away and I simply had to try and make up a similar one myself. After searching for and finding a suitable 36 letter quotation, I managed to complete a puzzle and as Ximenes enjoyed solving it, and as I thought he might welcome the opportunity to enter a clue writing contest himself, I decided to send the puzzle to a few more Ximeneans and set the name of the author of the quotation as the word to be clued. I selected the strongest of teams - D.S. MacNutt, captain (Sussex), C.O. Butcher (Essex), Sir S. Kaye (York-shire), Mrs E. McFee (Middlesex), Dr. T.J.R. Maguire (Eire), Mrs B. Lewis (Surrey), D.P.M. Michael (Glamorgan), C.J. Morse (Middlesex), A. Robins (Lancashire). Mrs E.M. Simmonds (Berkshire), T.L. Strange (Tasmania) and S. Sondheim (USA) who. although very busy working on 'Company', at the time, enjoyed taking part. Unfortunately. although everyone enjoyed solving the puzzle, only about three of them knew the author of the quotation, so I had to send out an additional clue which led to my receiving twelve very good clues. After receiving all the clues (Without any names attached) the team then voted for the clues they liked best and C.J.M.'s 'Obscure quoter, our great original seen in retrospect', just beat X's 'Puzzle inventor -master in twisted one'.
Some months later, I was watching a programme on ITV and suddenly decided to switch over to the BBC 2 channel and just caught the ending of a programme in which some fellow was being interviewed. Although I didn't know who he was, I had a strange feeling that I did, and wasn't at all surprised to find, when the details appeared on the screen, that it was Stephen Sondheim who was in London for the opening of 'Company at Her Majesty's Theatre. I saw the show and enjoyed it immensely and was very surprised to read in the programme that 'Until recently Stephen Sondheim was the author of maddening and diabolical crossword puzzles which appeared in a New York Magazine'. This was great news to me because I was under the impression that all crosswords in the States were of the definition only type, so I dropped him a line to tell him what I thought of the show and asked about his crosswords and if he would send me one, and he duly obliged.
The one he sent me was Murder Mystery', which was the narrative type. Although I'm not a great lover of this particular type of crossword, I enjoyed solving it - that is, I completed the diagram, but then one had to decide who had committed the murder, and I was completely baffled - first I thought it was A - then B - then C, in the end, I decided to send it to four of my own solvers to see how they fared with it, but unfortunately, yet fortunate for myself, for it led me to the murderer, I had pencilled in the solution rather too heavily for erasing and had to redraw the diagram before I could get copies made. The result was 50 - 50 - two solved the puzzle quite easily, but two were completely baffled.
A couple of years ago I was walking through the record department of a Croydon store and the design of one of the record sleeves caught my eye -not surprisingly, for it appeared to be a mixture of Scrabble letters - and, on picking it up, I found the mixed up letters spelt Stephen Sondheim and the titles of the shows he had been associated with, inside were two live recordings of 'A Musical Tribute to Sondheim' performed at the Shubert Theatre, New York on March 11th 1973 in aid of Charity. All the songs were sung by the Stars who had appeared in the shows, and on buying and playing the records, I was delighted to find one of the songs - 'Anyone can Whistle' - sung by Sondheim himself. All these songs have since been brilliantly performed in 'Side by Side by Sondheim' at the Mermaid Theatre, London, which was a treat for all those who are interested in the magic of words.
Ximenes was a master of words who stuck to his principles and aimed at perfection. The same can be said of Stephen Sondheim. I admire and appreciate his work and, at a distance, follow his career with increasing interest. I wasn't at all surprised to hear him say, in a recent interview on BBC TV - 'I want to be able to stand at the back of the house and be proud of what I see, not just in terms of my own work, and say "Yes! that musical was worth spending a year and a half of your life on"!'.
It is said that one good thing leads to another, and in my case, this is perfectly true - first Ximenes, then Sondheim - I'm very glad to have had the good fortune to stumble on both of them.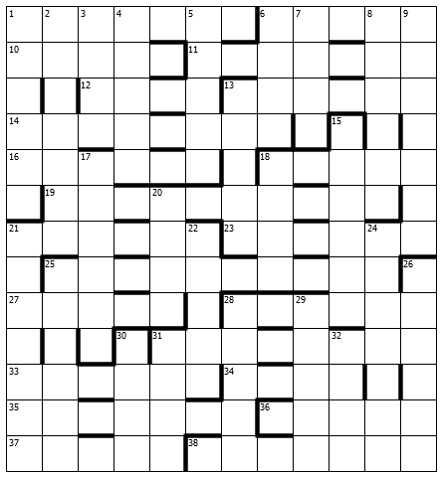 The 40 letters of the perimeter (7 words, commencing at 1. across and reading clockwise), and the 5 unclued lights are connected by a theme which has to be discovered. Chambers Twentieth Century Dictionary 1972 Edition is recommended.
ACROSS
1. (40) clockwise
11. Bird producing the highest note with difficulty (6)
12. A division of boundaries to flutter around one (5)
13. Excellent excerpt of composer - a revelation (4)
14. (8)
15. A youngster's farewell to touch one. (4)
16. Man beginning to look for a goddess (3)
17. One probably hums the opening by the sound of it (4)
18. One leading girl astray (5)
20. House back in place makes something of yarn (6)
21. A maid who was bound to be seen dancing (4)
22. Miscellaneous pieces following casual opening of show (4)
24. Some wax and leap all over the place (4)
25 A student of classical literature to hoax one and it's funny (8)
28. Sounds ill-natured but, although fruity, it's not a raspberry (4)
30. Again comes in with enthusiasm (4)
33. (7)
34. Reckon it could be the one you like best (4)
35. The girl grabbing ring is a digger (4)
36. Some trouper men give a wave to (4)
37. Becoming the rage? That's about right (3)
38. A big one, perhaps, for the ending? (3)
40. Unusual musical to note must not put out Greek dialect (6)
41. (6)
DOWN
1. A beat mostly coming from one of the wings (3)
2. (6)
3. To practise holding an E with variations and discomfort (6)
4 Some Japanese melody strewn with devices? (4)
5. Most members of cast had a teasing desire (6)
6. _______ and Ale for the masses? (5)
7. A heartless pretty lady from Poplar (5)
8. The most original of narrators in a dashing fellow from Terra Firma (4)
9. To ring out one dozen tunes - no duets omitted (6)
10. Opening of next tune for people with peculair marriage system (4)
19. (8)
23. Letters for making one of the little things caught (7)
24 Seem to be up top, two redheads initially performing (7)
26 Nothing in the American's verse that's short-lived (6)
27 He is excitedly beginning to kiss and hug the girl's young man (6)
29. A well-known green for ending of frustration in girl (6)
31. Lots of secluded females here hasten to get married (5)
32. An old hand - one electrifying shows (5)
33. An abundance of Scotch at any time after Show's opening (5)
39. Trio finally attacking a pastoral song (3)