Round Robin III by The Crossword Centre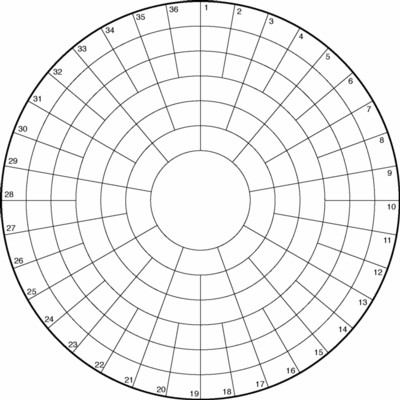 In the grid each four-clue segment has two answers entered inwards and two outwards. The third ring in from the outside consists of five names which are completed thematically. What the Centre could be is relevant (in a roundabout sort of way ). Chambers Dictionary is the recommended book of reference.
Radials six-letters
1 Lawyers almost fool man associated with DA
2 Check unfinished puzzle? Did it!
3 Some leviathan gargantuan jumbo container?
4 Wild bout of excessive behaviour involving alcohol
5 Trout? Hotel's in fact run short
6 Manner of moving vehicle around ten diversions
7 Censor almost obscures revolutionary pin-up's distinguishing feature
8 Mince pie cold, acidic, lacking middle - it could make you sick
9 Society to summon hard lines over rules of behaviour
10 I must wear perfume like one from Estee Lauder
11 Cloth of a certain stripe? Theological college turns it out
12 Porgy and Bess' finale's a very good watch
13 Makes questionable eta lookalike a Hebrew letter
14 Parents embrace source of dharma with special sacred flowers
15 Antelopes and young hawk once ate a bit of liver
16 Station, one of seven usually avoiding repeats, broadcast first repeat of Father Ted
17 Primarily back - one liking independent role - essentially given free rein
18 Drunk adores Corno Grande spirits, for example
19 Composed operas in Italian port
20 Speaker turning round one and a half times
21 To spoil puss, feed cat scraps - forget tin-opener
22 Was a grommet used in knots round edges of roof?
23 Soundproof short cul-de-sac
24 Authenticated volume is autographed at the front by editor
25 Childish member of the lower class
26 Ray, that's a bit rough - unusual to replace Argentina in undecided game
27 Taiwan's cautious about slogan
28 Two notes on greenback, perhaps - where the bucks stop?
29 Hit with a lead pipe? Black's killed off. Game's finale: party discovered!
30 Forsyth's second had characters wrapped up in deal to shield Nazis - collectively, ______
31 Where to see verse on the weekend?
32 Indicator of rate of ocean's receding
33 In Phoenicia, she's beginning with E; in Babylon, I – Venus, perhaps, ensnaring hearts
34 New shoot forming start of oasis in desert
35 One makes up a percentage of what one reports
36 Treat elves's leader and I leave Rudolph?

Contributors: Arsinoë, Auctor, Bandmaster, Peter Biddlecombe, Caper, Doc, Brian Dungate, Elfman, Geronimo, Oli Grant, John Guiver, Rod Harling, Homer, Hotspur, Chris Johnson, Mash, Mohair, Mordred, Morph, Mr E, Nutmeg, Porlock, Radix, Raich, Rebus, Rover, Samuel, Scorpion, Sparthe, Stan, Neil Talbott, Telgip, Tiburon, Tilsit, John Tozer, Urchin, Luciano Ward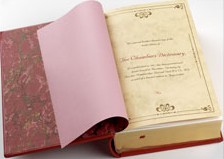 To enter this competition send your solution in list format, plus the 5 names, the word in the centre ring and the number of your favourite clue, to derekharrison@yahoo.com before the 8th January 2008. The first correct solution picked will receive a copy of the £150 leather-bound edition of Chambers Dictionary which has been donated by the publishers.