Treasure Quest by Merlin
Radial answers are all of 6 letters and are entered in jumbled form.
Merlin has concealed in the Round Table clues leading to the treasure. The first two are in the third ring (counting from the inside). Solvers must highlight the pieces of treasure on the table and write its name underneath.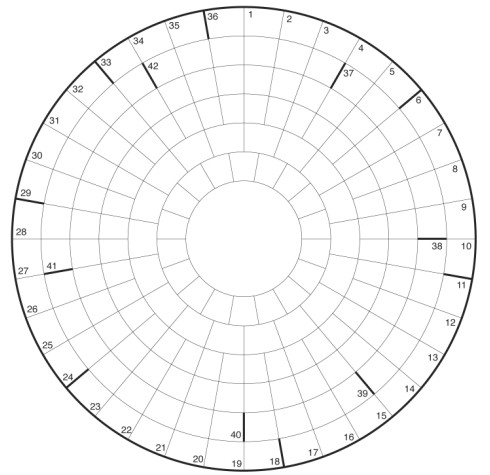 TREASURE: ________________________________
RADIAL CLUES
1. Lover in combination with past spy
2. Onboard computer and dictionary surrounded by light
3. Bloke, say, with a wine shop
4. Unknown in Great Britain turning over a particular past
5. Bridge partners dubious having a cold?
6. Vaccine protects a member of sect
7. Sauce - one found on boundary of Cornwall
8. Reliant Robin, say, gives some eccentric a ride
9. Silk used by family on horse
10. Not much to eat - criticise it audibly
11. Spot banal stuff with little hesitation
12. Charge Scotsman and Greek
13. One uncovering end of French resistance
14. Tell about former lover sorting boys from girls
15. Lots of boats following races
16. Over Rae's head that is Scottish bonnet
17. Regret picking up girl, would-be sorority member
18. Minstrel, leader of house in merry dancing
19. Car range
20. Prize free butterfly
21. Corners Rugby team catching nothing
22. Expert in Grammar School: they've had it
23. Note round wound slight pain
24. Women left behind West Indian boats
25. Joey in transport for Glasgow dole offices
26. Calm man after smut
27. False appearances, right in certain types
28. Assistant in brothel perhaps
29. Overdrawn beauty is rather unusual
30. Comments to an audience featured tracks
31. Coloured people satisfied conditions
32. Uncouth person's comment on receiving fairground prize?
33. Quantity of ink farmers' body left after exercise
34. Greeting to top man out walking
35. Chunter about t'war god returning
36. Outrageously fat bey to lose weight
CIRCULAR CLUES
6. Inducement for bachelor tucking into cheese (5)
11. Pupils fail to start profitable ventures (7)
18. Distress signal for castaway (6)
24. One Frenchman and woman (5)
29. Elite force's impudence (4)
33. Like some milk, in this way curtailed turning (1,1,1)
36. A gee-gee in light carriage is drooping (6)
37. Book actor (very camp) as Mr Doolittle (6)
38. I don't assemble circular designs (5)
39. Artist loses heart for a bird (4)
40. Phoney football team in debt? The opposite (8)
41. Earth-shaking arousal of Melissa (7)
42. Year in grip of avarice showed sign of aging (6)
To enter this competition, send your entry to me in list format including the treasure to me at derek@crosswordcentre.fsnet.co.uk before the 1st February 2005. The first correct solution picked from the hat will receive a prize of a copy of The Pears Cyclopaedia.