My sister Dolly... by Nutmeg
Down clues each contain a misprint of one letter, occurring always in the definition part of the clue. The correct letters describe the unclued down lights. Across clues are normal.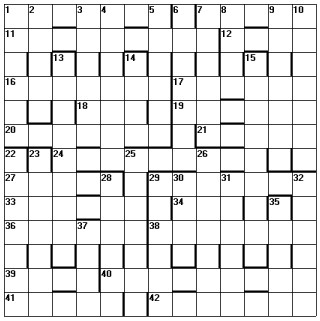 Across
1. Force English family into small container (7)
7. Valley with no cold expanse of water (5)
11. Chance coming to river (9)
12. Curse outlaw with energy (4)
16. One Latin student goes to head to make complaint (7)
17. Changes publicity to draw in males (6)
18. Tree used regularly by builder (3)
19. Identity concealed in seedy nightclub deal (6)
20. Braces - might they help you to dress? (7)
21. Sword fish found on street (5)
24. Yachtsman's propeller spirals out of control without it (9)
27. Nothing unchanged in refreshment place (5)
29. Bit to a greater extent, we're told (7)
33. Learner, and what he hopes to do first? Rubbish! (6)
34. 6 a foreign way (3)
36. Pet baby changes direction to make slow progress (6)
38. More than 12 scrambled eggs only half eaten (7)
39. Fruit sounds unintelligent (4)
40. She prophesied about saints and god (9)
41. Divine existence in the Home Counties (5)
42. Delay returning rent to college (7, two words)
Down
1. Ticking off for tailor (6)
2. Grown blue, for mature dyes (5)
4. Note vegetable coming up round 1st of November - it's useful for garden worm (7)
5. Students take in evenly crushed medical stuff (6)
6. Car abandoned, a young man shops with lovers (7)
8. When award includes Oscar, it produces votes (4)
10. The real Roman has news of pixie dropping article (7)
14. One who dupes employer (4)
22. On rising, inferior clothing not right for lazy idol (7)
23. Standard tale without beginning, one with inner moaning (7)
25. Banner poorly supported by eastern miss (7)
29. Most Solent women in church take exam (6)
30. Leaderless gathering of 13, wherein pregnant women have bunk (4)
31. Chartered accountant has one over the eight, like a noodle (6)
35. Israeli boys with one goat (not new) (5)
To enter the competition send your solution , in list format, to me at derek@crosswordcentre.fsnet.co.uk before the 12th February. The first correct entry picked will win a copy of Chambers Concise Crossword Dictionary which has been donated by the publishers.