Don't Look Down by Arsinoë
Eight answers must be encoded before entry into the grid. When put in order, the asterisked squares spell out the keys to unlocking the code (which should take into account an audible signal network of ironic alien).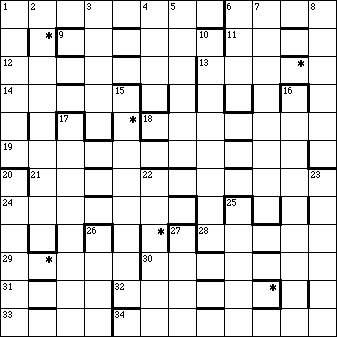 Across
1 Catch up with what careless fisherman might do (8)
6 Indolent aristocrat's date goes for taste of zabaglione (4)
9 Fragment of mysterious religious text found hereabouts (6)
11 Tragic Christie character sent back to front with wings (4)
12 Stretching to see somewhat revolutionary design in arcade (7)
13 Mushroom oinker nearly pulverized (5)
14 Recoiling sloth originally nervous from foreign material's effect (5)
18 Without stopping to restrain truculent ostrich inside petting zoo finally (7, 3 words)
19 Worker and teacher alternately study civil engineer's priority (11)
21 Where wet sheets may be pinned when sailing wildly (11, hyph.)
24 Chanel ultimately abandoned making nonsensical clothing (7)
28 Literary protagonist spoke of the Ugly Duckling (5)
29 Bleat muffled greeting in equatorial state (5)
30 Nail got warped in abbreviated basic calculation? (7)
31 Confine one among marginally antisocial characters following justice (4)
32 Reptile that may be paired with magician or last letter in poetry (6)
33 Damage part of French armoire (4)
34 Here's hanging piece of fabric receiving grand cheer (8)
Down
1 Algonquin Round Table essentially dogs one limited by broken jaw (6)
2 Indecisive conflict among the Chosen People? (9, 2 words)
3 Parlance uttered normally in Carthage, principally (5)
4 Attached to god flipping for Italian flower? (4)
5 The last bit of silver kept in till (6, 2 words)
6 Darling dog's elderly relative (4)
7 Athletic police bothered by a loss of hair (8)
8 Mostly Indian mystic philosophy: "If the world were perfect it wouldn't be" (6)
10 They're saved by trading one thousand for another in distributed segments (8, 2 words)
15 Leading contender, losing heart, is concerned with keeping records (8)
16 Operative part of speech describing editor or writer, but not newspaper (9, 2 words)
17 Sailors board transport -- one that's as yet unbuilt (8)
20 Stamp out irregular technique, discarding tie (6)
22 Reportedly where needle's stuck to no avail (6, 2 words)
23 Gloated about losing time -- that's rich (6)
25 Toss wandlike implement primarily from hand to hand (5)
26 Reflective medium of much of animation? (4)
27 Australasian soldier stopped short explorer of California (4)
To enter this competition please send your solution in list format to derek@crosswordcentre.fsnet.co.uk before 5th July 2004. The winner will recieve a copy of Chambers Cryptic Crosswords and how to solve them by Michael Kindred and Derrick Knight.
For more of Arsinoë's puzzles go to http://www.geocities.com/arsinoe_x/