XIMENES CROSSWORD No 1100 - 'LETTERS LATENT'
22 February 1970
The 18 letters of a traditional statement (4 words) about 14. down should really occur (In some cases more than once) in the answers to the ACROSS clues, the first in 1 across, the second in 4ac, and so on in the right order up to the last letter, which should occur in 34 ac. These letters must all be omitted, wherever they should occur, when answers are entered. Definitions in these clues refer to the full, unmutilated words (lengths indicated by numbers in brackets); subsidiary indications refer to the mutilated forms to be entered in the diagram. DOWN clues and answers are normal. Competitors should write a clue to 14 dn., on the same principle as that used in the ACROSS clues, treating the consonant which appears in it twice as the 'latent' letter. Note that words connecting the parts of these artificial clues should not be used.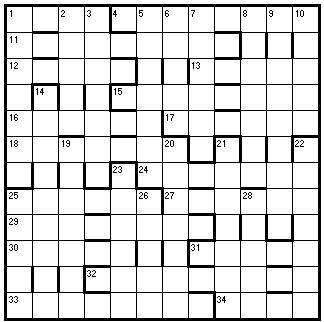 Across
1 Cat robbed of double tail a bird (6)
4 Idiot medico to pinch: collection (10)
11 Jingoist ring in one magical upset (11)
12 Scottish amber to flog, mister (6)
13 Whirl-American negro loses his head (7)
15 Almost prevalent in producer of wine glasses (9)
16 Notches fifty in an unusual scene (7)
17 Passionate generation is in enemy's hands (7)
18 Accident before coppers - given a bribe (8
24 Tractarians in clumsy cant, tasteless (10)
25 They cut slips and leafless peduncles (8)
27 Low story - left, after snort - improper (8)
29 Not formerly one among the best to draw (9)
30 People with a show of doubt, less generous (6)
31 (2 words) Mounted, with a a small lead (6)
32 Panic - gingers us when out of control (9)
33 Investigate extraordinary curtness (8)
34 Long fish, eastern, used to be pointed (8)
Down
1 Fertiliser - put one pound in secret place (7)
2 Exudation obtained from a fruitful mine (5)
3 Gladstone lived showing interest in Ireland (7)
5 Jap plucks this old cloak in his copper (7)
6 Father Time had one, one held by early man (5)
7 Old couple's inner purpose - to injure rank (8)
8 Sponge thrown up about Mac's fall but surely not these? (7)
9 Seen my snaps? A brook going up hill (9)
10 Idiots - you must not call irons these (5)
*14 Nickname of man apposite to this puzzle (9)
19 One who laments? More outspoken (7)
20 Dares - one of them advocated doing that (7)
21 Form of. garnets that one seldom sees (7)
22 See badly - cut in: result: - darkness (7)
23 Here mutiny began, fitting about ruler (6)
25 An old copper and old Scottish students (6)
26 Bein' economical my oil irritates (5)
28 A place in Surrey that was once bright (5)
Chambers's Twentieth Century Dictionary, Revised Edition, is recommended.
COMPETITION Rules and Requests
1. Send solution on printed diagram and a clue as indicated above, to Ximenes, Buckmans, Five Oaks, Billingshurst, Sussex. Normal closing date, Saturday next, first post, but all from Britain bearing Friday's postmark and all from overseas arriving by Tuesday week, first post, will be accepted. One entry only. 2. It is advisable to add a brief note explaining your clue. 3. If possible, please use a single sheet of notepaper about 7 x 5 inches, not a very large nor a very small sheet, and PIN or CLIP rather than stick your solution to it. Make sure your name and address are on the sheet and check your diagram in case you have made slips. 4. Book tokens value 35s, 30s, 25s, and Ximenes book-plates are offered for the three clues judged best; a correct entry is essential in order to qualify. 5. Slips, containing details of successful clues and comments, will be senders of 4d. stamped addressed envelopes (not loose stamps, please).These are specially recommended to less experienced competitors; they are likely to be helpful. 6. Annual consolation prizes (25s. tokens) are offered for non-prizewinners who gain most commendations.